SOFTCHOW
A foodie APP
Alan Yau is a restaurateur who's best known for founding the Wagamama food chain. He's also the man behind many leading London restaurants such as Hakkasan, Yauatcha, Duck & Rice and many more which have been awarded Michelin Stars. Now, he's taking on the tech world because he believes current food apps are creating too many food regrets!
I joined Softchow to have the unique experience of realising our founder's vision - to disrupt current food tech platforms and create from scratch, a taste driven social network built on trust.
HAILO
Passenger & driver apps
Hailo is a cutting-edge technology startup that matches taxi drivers and passengers through its mobile and desktop apps. The best thing about working at Hailo has been the opportunity to be part of an incredibly talented team working in Agile, alongside product managers and engineers to build meaningful products.
After a year at Hailo I was promoted to Team Lead, managing and mentoring the Design and Research team while still remaining hands on. I worked across our Passenger and Driver apps to improve the overall experience and explore new features.
For my 20% time, I also helped the marketing team on several projects, creating our new brand guidelines, re-styling our CRM comms and was the creator and photographer of our most successful summer campaign.
🚕
2015/17
Lead Product Designer
H4B
Hailo for BusineSS
When I first joined Hailo I became part of the Hailo for Business team. I was very excited to work alongside awesome product managers, developers and engineers to redesign our corporate travel management solution for companies big and small. My role was to own the user experience across our enterprise solutions which entailed rigorous prototyping, testing and the frequent delivery of new products and features.
Our team KPI was to create a completely self-service and intuitive business product suite. In order to achieve this, I redesigned the Hailo for Business signup flow, the Admin Dashboard, Hailo Hub - our concierge booking tool, our online passenger booking tool, the business website and all of our corporate email communications. It was a busy but extremely fun year, resulting in Hailo for Business becoming our fastest revenue growing product, at 650% YOY.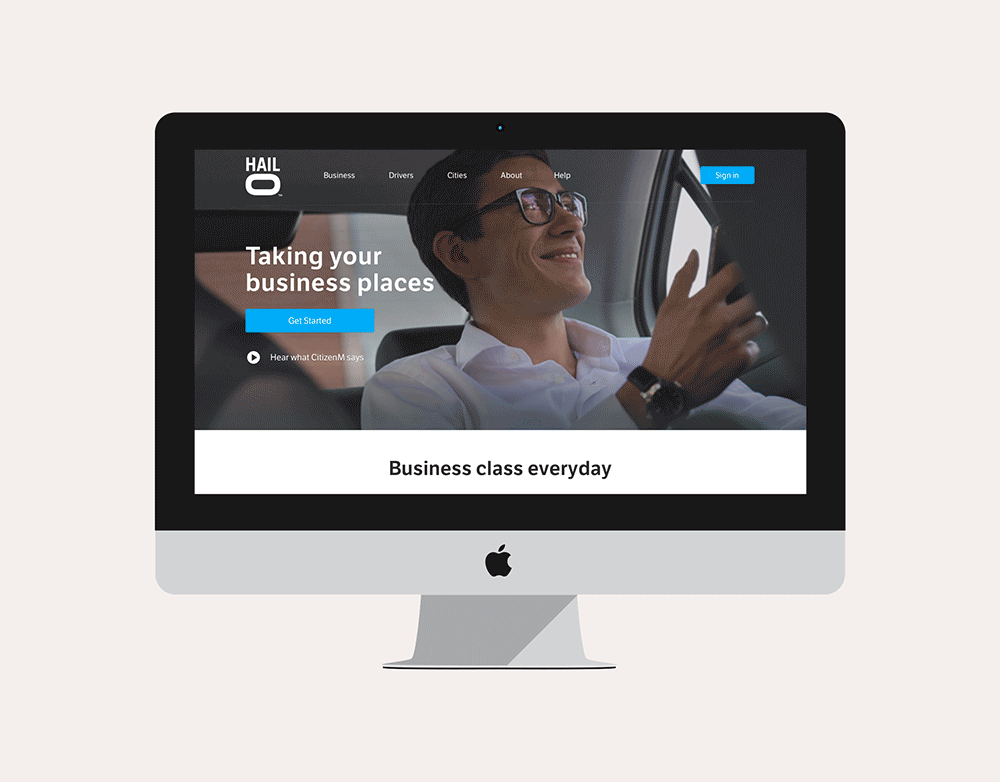 MOO
Mobile WEB & Communications
Moo is an award-winning print and design company specialising in premium business stationary. As an Experience Designer I focused on designing with a human first approach, striving for delightful, functional and thoughtful user experiences that emotionally engaged our customers.
During my time at MOO, I redesigned the mobile website, all of our customer email communications and designed a tablet app concept for customers to easily share their portfolios. They could choose from a collection of beautifully styled templates that used APIs to pull in and curate content from their personal website and social networks.
PAYPAL
Global Website Redesign
Millions of people around the world use PayPal. It's the fastest, safest and easiest way to send and receive money without revealing your financial details.
As project lead in London, I was the daily point of contact for all stakeholders and team members. As the driver of the PayPal.com website relaunch project, I worked cross-functionally with copywriters, developers and marketers to deliver world-class designs that created better PayPal customers experiences, globally.
I successfully led the re-launch of PayPal's consumer and business websites across 162 countries that was fully responsive and allowed us to penetrate the mobile market, which was experiencing exponential growth in 2012.
GIDDYFINGERS
Sticker app Entrepreneur
Giddyfingers is a fun and creative photography app that lets users add stickers to their photos to tell new stories. With over half a million downloads, Giddyfingers is being enjoyed world-wide.
Giddyfingers was born after a collection of icons I designed, called Giddyology, went viral on social networks. I woke up one morning to find my website crashing with the amount of fans downloading them. Then, they demanded an app so I got busy making one... I suppose life's just more fun with stickers!
You can download it here: iTunes | Google Play